Actually, my birthday was yesterday (this year marks the fifth birthday commemorated on this blog - I wrote previously about turning 33, 31 [not sure why I skipped 32], 30, and 29) and in the spirit of the Makery, while I don't have any new projects to share (fresh on Mondays my foot, right?), I thought I'd hand out an award(s) for "Best Birthday Card Ever."

But first, a runner's up award goes to a pal who sent me this via the Facebook (as my birthday was also Columbus Day, which is a holiday when schools in California close for mysterious teacher work days but we're too PC to actually, openly celebrate):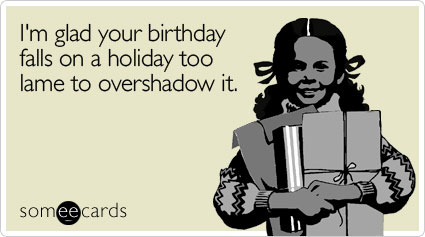 Pretty good, huh? But the award for 1st Place Best Birthday Card Ever will have to go to
Neal
for the preschool newsletter inspired birthday card he presented to me upon picking up our son yesterday. The front:
And the back:
Our son started preschool recently and we get a newsletter each month so we've been talking a lot lately about how fun preschool is, how exciting it is to look at the calendar each day and see what fun activity lies ahead (I don't know what "Counting Crows" means but I'm sure it'll be fun!). And the version he created is so close to the original that I totally believed him, for a few seconds at least, when he handed it to me in the car, saying he'd found it in our son's folder. I was all, what the what?!...Pretty sweet, don't you think?