Before another week of summer reality television passes me by, I wanted to briefly write a few thoughts about the two shows I'm currently watching: Craft Wars and, of course, So You Think You Can Dance (which will henceforth be referred to as SYTYCD...if you don't know that abbreviation by now, we probably shouldn't be Internet friends).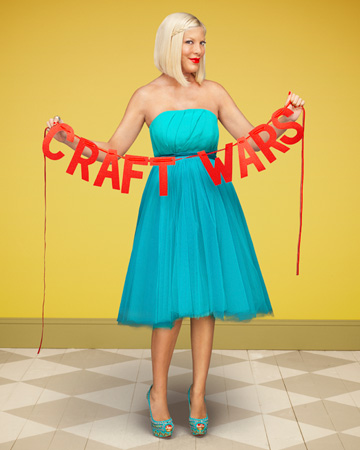 But first, Craft Wars. As you all know, I dabble in crafts. I'm not sure if I'm as "avid" a crafter as Tori Spelling (who knew, right?), but since graduating from art school a few years ago, I've spent more time on the craft side of the age old art/craft debate. So when I heard about the show, what with my love of crafting and reality competition-based TV shows, I applied. I even got a response back. Additional information they requested at that time included pictures of art I'd made that used unique materials, examples of any building or construction me or my "assistant" had done, a description of the most "out of the box" piece I'd ever created, plus my age and a picture of me and my "assistant." Again with this "assistant" business - I'm a one-gal show, y'all! I can't afford an assistant! Well, after the first few minutes of the first episode of the show, it was clear that my "assistant" could have been my husband or a friend. Do I have to share the whopping $10,000 prize?
This brings me to my first criticism of the show. I don't consider myself a greedy person and admit I felt better about the measly $10K prize when I saw that it was just for one show's worth of work, but seriously TLC? What is that, about $6K after taxes? Even Bravo's
Work of Art
rewards the winning artist with $100,000, and that's in addition to a solo show at the Brooklyn Museum, which is, as they say, priceless. Oh, but wait - now I remember. Crafters craft out of pure love for what they do. Perhaps. Clearly, I was not quite right for the show. In a way I'm sort of the opposite of what they seem to be looking for. Rather than make functional products out of unconventional items, I tend to use fairly conventional materials to, I hope, somewhat unusual ends (classical columns out of paper, etc.). And rarely is what I make, as an artist at least, at all functional. As a crafter I do indeed hope my products serve a function but in the end, I'm a pretty conventional crafter. Also, I haven't used my sewing machine since I was 14. And that was a little while ago.
Anyway, enough about me. My second, and really only other criticism of the show is with the judging. I like the format of the show, beginning with a Top Chef quickfire-esque "pop challenge," giving contestants one hour to make a common crafty product (birdhouse I get, duffle bag not so much) out of the items at their disposal. Two of the three contestants then go on to the master challenge which, up to this point, has basically consisted of a very similar structure built out of wood, but accessorized in different ways with a different theme each week. Even Tori-as-hostess is growing on me. She's very mom-like when talking to contestants about the projects they're furiously working on (and I don't mean that in a comforting way, I mean that in a slightly sort of scolding way, which is, of course, delightful to watch). And that's about as critical as it gets. When the judges aren't saying thought-provoking things like, "overall, I think it's great," they're mostly complaining with one another about where they stand on the glitter spectrum. This, my friends, is what I see to be the main difference between art and craft - a good ol' fashioned ass whooping. I mean, constructive criticism. I love, love, love the community of crafters and how incredibly supportive they are (I basically cannot look at my
Twitter
feed on Tuesday nights until
after
I've watched the show). But God forbid anyone say anything even remotely critical - and constructive - about something someone has made. Or perhaps art school has damaged me forever.
With
SYTYCD
, on the other hand, the judging is one of my favorite parts of the show (in addition to the dancers and the choreography and sometimes the music and the format and the fact that I can call in, and, and, and...). And I know everyone connected to the show says it every season (to which I actually disagree the last couple of years) but I really think this season, season 9, is going to be really, really fantastic. The dancers keep getting technically better, but this season it seems like the dancers are good
and
have really captivating personalities, not to mention a great range of dancing styles, including a few that can't really even be categorized. Early faves include
Alexa
(I'm truly smitten with her very 80s look and think Mandy Moore will have a lot of fun with her),
Cole
(I love watching highly choreographed martial arts-type films - wishing Steven Soderbergh would turn
Haywire
into a TV series, for example - so it's not surprising that I dig his unique style...he's also pretty easy on the eyes, wouldn't you say?),
Cyrus
(what's not to love about this guy, although, to be fair, I do think he has some serious limitations as far as the competition goes and would be surprised to see him make it too much further),
Eliana
(I think she's my official girl-crush this season),
Janelle
(two words: belly dancing!), and
Whitney
(a ballroom hot tamale, indeed). And for the record,
Matthew
has got nothin' on
Ryan Gosling
. Amirite? (I link to his Wikipedia page, as if you don't know who he is! LOL)
On a slightly negative point, I'm not as excited as everyone else seems to be about the return of
a certain someone
, but I'll try to refrain from hatin'. I'm also a little concerned about this one-night-only format. Partly because that means I only get 50% SYTYCD this season as compared to past seasons, and partly of course because I'm just confused as to how exactly that will work, what with the calling in and all. But I guess the mystery won't be a mystery much longer. Needless to say, after a two-week hiatus, I'm eager for the first real show of the season. Bring it!